Game Development Companies in Atlanta
Last updated Apr 11, 2023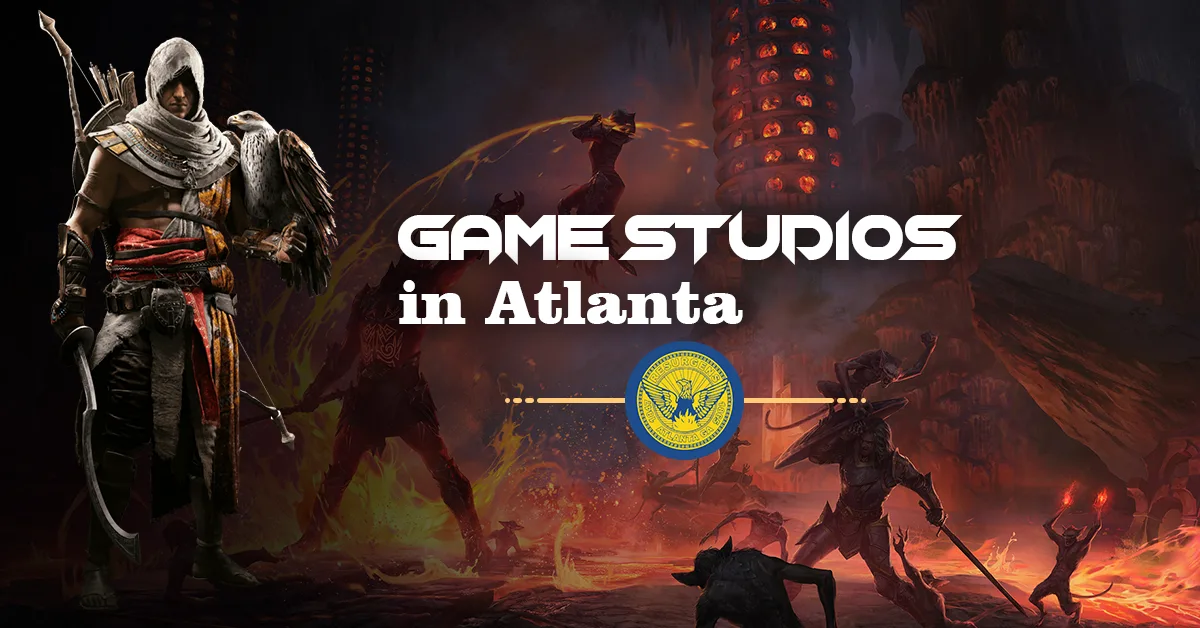 The game development market in Atlanta is one of the fastest-growing in the united states. The industry has seen a significant amount of growth in recent years, with the number of companies and employees increasing rapidly. This guide will help you find the best game development companies in Atlanta so that you can make an informed decision about which one is right for your project. When considering game development companies, it is important to take into account a variety of factors such as size, experience, portfolio, and pricing. These factors will help you narrow down your choices and choose the company that is best suited for your project.
Size: When looking for a game development company, size does matter. Larger companies have more resources and are better equipped to handle large projects. However, they may also be more expensive and less flexible when it comes to working with smaller budgets.
Experience: Experience is another important factor to consider when choosing a game development company. You want to choose a company with a proven track record of delivering quality games. A company's portfolio will give you a good idea of their experience and the types of games they have developed in the past.
Pricing: Pricing is an important consideration when selecting a game development company. You need to find a company that offers competitive rates while still providing high-quality services. It is important to get quotes from several companies so that you can compare pricing and services.
List Of Top Game Development Companies in Atlanta
The NineHertz is a reputed game development studio that specializes in create mobile games and video games. They have a team of experienced game designers who can take your concept and turn it into a reality. In addition to mobile games, they also develop metaverse games, AR/VR games, and NFT games. Their developers are well-versed in a variety of game engines like Unity, Unreal, Gamemaker, and Godot. The NineHertz also offers game design and concept design services for both 2D and 3D gaming projects. Whether you're looking for a team of experienced professionals to develop your next big game idea or simply need some help fleshing out your game's concept, The NineHertz can provide the game development services you need.

| | |
| --- | --- |
| Foundation | 2008 |
| Headquarters | Atlanta |
| Number of Employees | 51-200 |
| Hourly Rate | $50-$80 |

Asira Technology INC is one of the Best game development company in Atlanta. They are known for their innovative game design and development services. Their team of experts has years of experience in the gaming industry and they know how to create games that will keep players hooked.

| | |
| --- | --- |
| Foundation | 2014 |
| Headquarters | Atlanta |
| Number of Employees | 15-30 |
| Hourly Rate | $50-$99hr |

Blue Mammoth Games is Best game development services provider that specializes in creating mobile games. Their games are known for their simple and addictive gameplay.

| | |
| --- | --- |
| Foundation | 2009 |
| Headquarters | Atlanta |
| Number of Employees | 51-200 |
| Hourly Rate | $50-$99 |

MegaFon is a game development company that creates games for all platforms. They have a team of experienced game developers who know how to create high-quality games.

| | |
| --- | --- |
| Foundation | 2019 |
| Headquarters | Atlanta |
| Number of Employees | 25-50 |
| Hourly Rate | $25 |

Persuasive Games is a game development studio that specializes in social casino games. Their games are known for their realistic graphics and engaging gameplay. Some of their popular games include Slotomania, Caesars Casino, and WSOP Poker.

| | |
| --- | --- |
| Foundation | 2003 |
| Headquarters | Atlanta |
| Number of Employees | 51-200 |
| Hourly Rate | $30-$50 |

Tripwire Interactive is a game development studio that specializes in developing first-person shooter games. The company has released several successful games, such as "Killing Floor" and "Red Orchestra".

| | |
| --- | --- |
| Foundation | 2005 |
| Headquarters | Atlanta |
| Number of Employees | 51-100 |
| Hourly Rate | $25-$40 |

Dragon Army is a Top game development studio that specializes in developing mobile games. The company was founded in 2009 and its games are known for their deep and complex gameplay.

| | |
| --- | --- |
| Foundation | 2009 |
| Headquarters | Atlanta |
| Number of Employees | 100-150 |
| Hourly Rate | $50 |

Skillshot Provide the best game development services and they specialize in developing competitive gaming experiences. The company has released several successful games, such as "Super Smash Bros." and "Halo 5: Guardians".

| | |
| --- | --- |
| Foundation | 2014 |
| Headquarters | Atlanta |
| Number of Employees | 51-100 |
| Hourly Rate | $30-$50 |

Zco Corporation is a game development company that specializes in developing mobile games. The company was founded in 1988. They are known for their Assassin's Creed franchise.

| | |
| --- | --- |
| Foundation | 1988 |
| Headquarters | Atlanta |
| Number of Employees | 250 - 999 |
| Hourly Rate | $25 - $49/hr |

Rocksauce Studios is a game development Company in atlanta that best in developing games for all platforms. They has released several successful games, such as "Doodle Jump" and "Temple Run".

| | |
| --- | --- |
| Foundation | 2010 |
| Headquarters | Atlanta |
| Number of Employees | 50 - 249 |
| Hourly Rate | $150 - $199/hr |