Top Game Development Companies in Florida,Aug-2022
Last updated Apr 25, 2023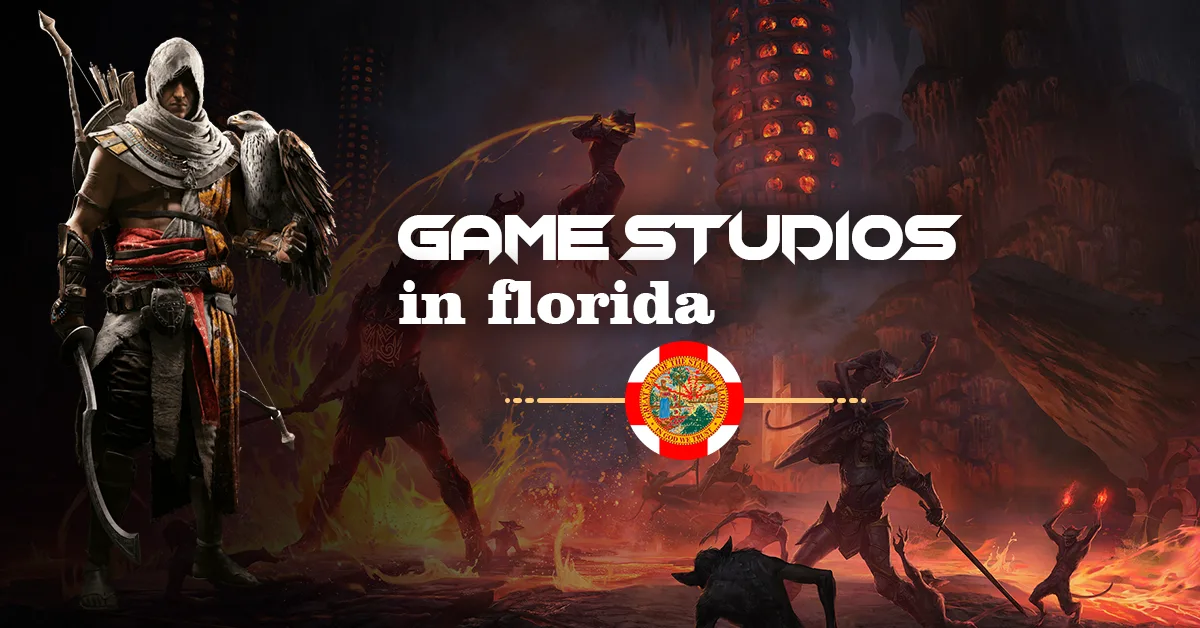 Emerging gaming industry in florida is attracting game development companies and developers from all around the globe. The state's supportive business environment and world-class talent pool are just some of the reasons why these companies are choosing to set up studio here. Florida gaming market share is currently valued at $1.27 billion and is projected to grow at a CAGR of 9.6% from 2019 to 2025.
As the gaming industry in Florida continues to grow, so does the number of game development companies setting up studio in the state.
How to choose game development company in Florida
There are many factors to consider when choosing a game development company. Location is one of the most important factors, as you want to make sure the company is situated in an area that is convenient for you. You also want to consider the size of the company and its portfolio. If you're looking for a large company with a lot of experience, then you'll want to look at companies like Bytrix Technologies and EA. However, if you're more interested in working with a smaller studio, then there are plenty of options available in Florida as well.
When it comes to game development, Florida has a lot to offer. With so many companies to choose from, you're bound to find the perfect match for your needs.
List of Best Game Development Companies in Florida
Here's a list of the top game development companies in Florida, based on their portfolio, clientele, and industry recognition:
Full Orbit is a video game development company in Fort Myers, Florida. They specialize in creating mobile games and have great portfolios of mobile and video game projects for clients, and they have expertise in porting PC/console games to mobile platforms.

| | |
| --- | --- |
| Foundation | 2019 |
| Headquarters | Fort Myers, Florida |
| Number of Employees | 50 - 249 |
| Hourly Rate | $25 - $49/hr/hr |

Soapbox is a full-service game development company in Plantation, Florida. With over 15 years of experience in the industry, they have worked on AAA console titles, mobile games, virtual reality experiences, and more.

| | |
| --- | --- |
| Foundation | 2007 |
| Headquarters | Plantation, Florida |
| Number of Employees | 1,000 - 9,999 |
| Hourly Rate | $25 - $49/hr |

Atomic Object is a vr game development company in Orlando, Florida. They have worked on mobile games, and virtual reality experiences. Atomic object has a dedicated team of 30+ game designers and game developers.

| | |
| --- | --- |
| Foundation | 1999 |
| Headquarters | Orlando, Florida |
| Number of Employees | 50 - 249 |
| Hourly Rate | $100 - $149/hr |

Righteous Hammer is a mobile game development company in West Palm Beach, Florida. They have worked on mobile games, web games, and VR experiences. Their team consists of seasoned game developers who have years of experience in the games.

| | |
| --- | --- |
| Foundation | 2020 |
| Headquarters | West Palm Beach, Florida |
| Number of Employees | 50 - 249 |
| Hourly Rate | $25 - $49/hr |

Game Lab Miami is a ios game development company in Florida. Triforce is an award-winning game development studio located in Miami, Florida. They have worked on a variety of games across different genres and platforms, including ios, mobile, console, and VR.

| | |
| --- | --- |
| Foundation | 2010 |
| Headquarters | Florida |
| Number of Employees | 50 - 249 |
| Hourly Rate | $25 - $49/hr |

iLLOGIKA is a android game development company in Boca Raton, Florida. They specialize in creating innovative and interactive experiences for all types of gamers. iLLOGIKA is one of the largest android mobile gaming companies in Florida. The company has also been listed in the top 100 Global Outsourcing Companies by IAOP. Also, the company has been a certified partner of AWS, GCP, SAP, and Microsoft for a long time.

| | |
| --- | --- |
| Foundation | 2002 |
| Headquarters | Ukraine, Malta, Florida |
| Number of Employees | 1,000 - 9,999 |
| Hourly Rate | $50 - $99/hr |

Triforce, founded in 2007, is one of the top game development companies in Jacksonville, Florida. They have worked on various projects for clients such as Coca-Cola, Hasbro, and Mattel. triforce has a team of 50+ expert developers who are passionate about making great games.

| | |
| --- | --- |
| Foundation | 2006 |
| Headquarters | Aventura, Florida |
| Number of Employees | 50 - 249 |
| Hourly Rate | $25 - $49/hr |

8.Vnnovate Solutions Pvt Ltd

Third Law Interactive is a 2d game development company in Orlando, Florida. They have worked on 2d mobile games. Third Law Interactive is a team of 50+ experienced game developers.

| | |
| --- | --- |
| Foundation | 2013 |
| Headquarters | Florida |
| Number of Employees | 50 - 249 |
| Hourly Rate | $25 - $49/hr |

Indie Gaming League is a 3d game development company in West Palm Beach, Florida. They have worked on 3d mobile games and web-based games. Indie Gaming League is a team of 30+ game developers who are passionate about making great games.

| | |
| --- | --- |
| Foundation | 2018 |
| Headquarters | Florida |
| Number of Employees | 10 - 49 |
| Hourly Rate | $25 - $49/hr |

Game Street is a game development company in Lake Mary, Florida. They have worked on mobile games, web-based games, and VR experiences. Game Street has a team of experienced game developers who are passionate about making great games.

| | |
| --- | --- |
| Foundation | 2013 |
| Headquarters | Lake Mary, Florida |
| Number of Employees | 50 - 249 |
| Hourly Rate | $50 - $99/hr |