Best Augmented Reality Game Development Studios
Last updated Apr 11, 2023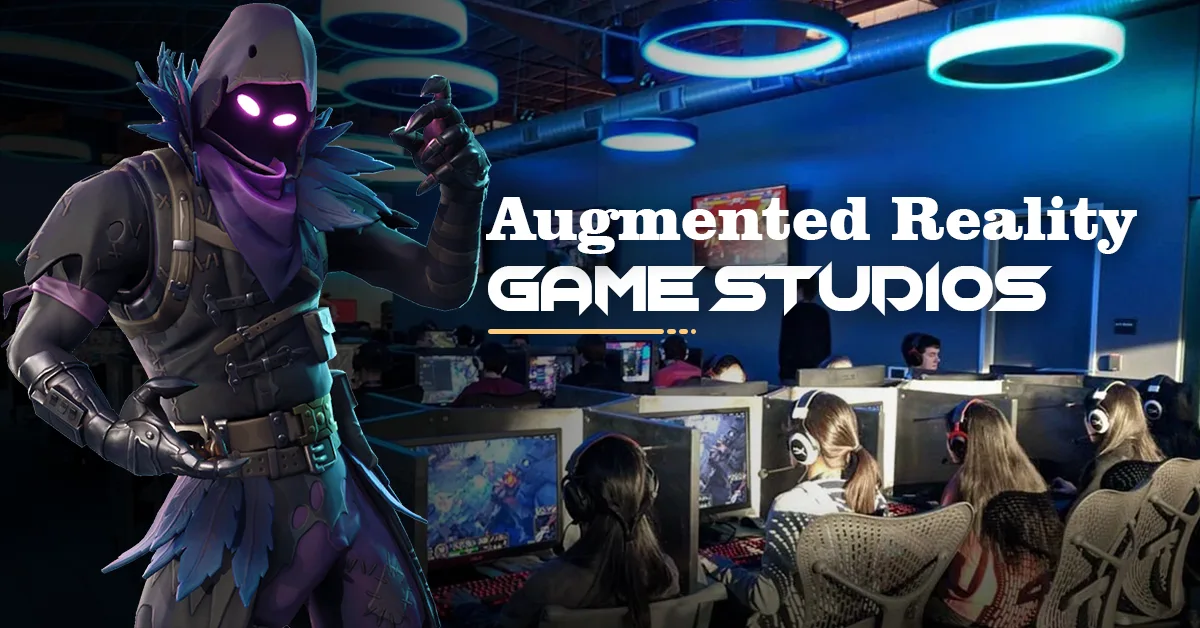 AR games are a new genre of interactive experience that is rapidly gaining popularity. AR games use cutting-edge technology to blur the line between virtual worlds and reality, providing players with an immersive and realistic gaming experience. While traditional video games require players to suspend their disbelief in order to immerse themselves in the game world, AR games use real-world objects and locations to create a more believable gaming experience. In addition, AR games often make use of special AR devices, such as smart glasses or head-mounted displays, to further enhance the immersion. As the technology behind AR games continues to evolve, it is likely that this new genre of gaming will only become more popular in the years to come.
Augmented Reality Game Market Size
According to Forbes, the AR game industry is expected to reach $284 billion by 2023, a huge increase from the $12 billion it was worth in 2018. This rapid market growth is being driven by the increasing popularity of AR games and the development of new technology that makes it easier for game developers to create immersive experiences. AR games are enjoyed by players all over the world, and some of the most popular titles, such as Pokemon GO and Ingress, have been downloaded millions of times. As the technology continues to evolve, it's likely that even more people will enjoy playing AR games on their smartphones and other devices.
Apple and Microsoft are both investing heavily in the development of AR technology. Apple has been working on ARKit, a set of tools that allows developers to create AR apps for the iPhone and iPad. In addition, Apple is rumored to be working on a pair of smart glasses that would allow users to see digital information superimposed over the real world. Microsoft, meanwhile, has been working on the HoloLens, a head-mounted display that allows users to see and interact with digital content. Both companies are clearly betting that AR will be a major part of the future of computing, and their investment is likely to spur even more development in the field.
List of best Augmented Reality(AR) game Development Companies
The NineHertz is a reputed game development studio that specializes in create mobile games and video games. They have a team of experienced game designers who can take your concept and turn it into a reality. In addition to mobile games, they also develop metaverse games, AR/VR games, and NFT games. Their developers are well-versed in a variety of game engines like Unity, Unreal, Gamemaker, and Godot. The NineHertz also offers game design and concept design services for both 2D and 3D gaming projects. Whether you're looking for a team of experienced professionals to develop your next big game idea or simply need some help fleshing out your game's concept, The NineHertz can provide the game development services you need.

| | |
| --- | --- |
| Foundation | 2008 |
| Headquarters | Atlanta |
| Number of Employees | 51-200 |
| Hourly Rate | $50-$80 |

Niantic Inc is a game development studio located in San Francisco, California. Founded in 2010, the company is best known for its work on mobile games such as "Pokemon Go" and "Ingress." However, Niantic's primary focus is on developing Augmented Reality (AR) games. The company's AR platform, "Real World Platform," allows players to interact with the real world through their smartphones or tablet. For example, in "Pokemon Go," players can catch virtual Pokemon that appear in the real world. Niantic's AR games are designed to encourage people to get outside and explore their surroundings. In addition to game development, the company also conducts research on the use of AR technology for other applications, such as urban planning and education.

| | |
| --- | --- |
| Foundation | 2010 |
| Headquarters | San Francisco, CA |
| Number of Employees | 501-1000 |

Ludia is a game development company based in Montreal, Canada. The company was founded in 2003 by Alexandre and Emanuel who were later joined by co-founders Matthieu and Marc-Alexandre in 2005. The company specializes in the creation of high quality, cross-platform games. Their games use cutting edge technology and are designed to be highly engaging and entertaining. Ludia's most popular game to date is Jurassic World Alive, a location-based augmented reality game that allows players to capture and train dinosaurs. The game uses GPS to track the player's location and then overlays game art on top of the real world environment. Jurassic World Alive has been downloaded over 10 million times and has received positive reviews from both critics and players. Ludia is also working on several other new games that are scheduled for release in the coming months. Thanks to their innovative gameplay mechanics and cutting edge technology, Ludia is quickly becoming one of the most popular game development companies in the world.

| | |
| --- | --- |
| Foundation | 2003 |
| Headquarters | United States |
| Number of Employees | 250-500 |
| Hourly Rate | $50-$80 |

4.Warner Bros. Interactive Entertainment

Warner Bros. Interactive Entertainment is a leading publisher of gaming content across console, PC and emerging technologies. The company develops and publishes gaming solutions for some of the most popular franchises in the world, including DC Comics,Harry Potter,LEGO,The Lord of the Rings and Mortal Kombat. In addition to publishing games, Warner Bros. Interactive Entertainment also develops emerging gaming technology, such as augmented reality (AR) devices and role playing games (RPGs). The company is always looking for new ways to engage gamers, and its commitment to innovation has made it one of the most successful publishers in the gaming industry.

| | |
| --- | --- |
| Foundation | 2004 |
| Headquarters | United States |
| Number of Employees | 250-500 |
| Hourly Rate | $50-$80 |

Rovio Entertainment is best known for Angry Birds, one of the most popular mobile games of all time. Angry Birds AR is the company's latest venture, an augmented reality game that allows players to interact with the Angry Birds in the real world. The game level is projected onto real-world locations, and players must use their phone or tablet to guide the birds through the obstacles. Angry Birds AR also features artificial intelligence that allows the birds to interact with players in realistic ways. Rovio Entertainment has plans to release Angry Birds AR on multiple platforms, including iOS, Android, and Windows 10. The company is also working on other augmented reality games that will be released in the future.

| | |
| --- | --- |
| Foundation | 2003 |
| Headquarters | United States |
| Number of Employees | 250-500 |
| Hourly Rate | $50-$80 |

Gameloft has set several records in the industry; 1.5 million downloads of their game every day are among them. Over the past few years, it has launched numerous most-loved games and continues the legacy. Asphalt, Modern Combat, Dungeon Hunter are a few of the samples. They also have partnered up with a few famous entertaining industries like Marvel, Ferrari, Fox Digital Entertainment, and Hasbro to develop amazing games.

| | |
| --- | --- |
| Foundation | 1999 |
| Headquarters | Paris |
| Number of Employees | 5,000-10,000 |
| Hourly Rate | $100-$150 |

Booyah Inc. is a mobile game development company that was founded in 2006. The company has developed over 20 games for a wide range of platforms, including Android, iOS, Windows Phone, and BlackBerry. Booyah is known for developing high-quality games with amazing graphics and gameplay. Some of their most popular titles include Nightclub City, My Town 2, and Pet Society

| | |
| --- | --- |
| Foundation | 2006 |
| Headquarters | San Francisco, California, United States |
| Number of Employees | 51-100 |
| Hourly Rate | $100-$150 |

Kabam is a mobile game development company that was founded in 2006. The company has developed over 20 games for a wide range of platforms, including Android, iOS, Windows Phone, and BlackBerry. Kabam is known for developing high-quality games with amazing graphics and gameplay. Some of their most popular titles include Dragons of Atlantis, Kingdoms of Camelot, and The Hobbit: Kingdoms of Middle-earth.

| | |
| --- | --- |
| Foundation | 2006 |
| Headquarters | U.S. |
| Number of Employees | 100-200 |
| Hourly Rate | $80-$100 |

Zynga Inc. is an American social game developer running social video game services founded in April 2007 and headquartered in San Francisco, California, United States. The company develops unity games that work on social networking websites. .

| | |
| --- | --- |
| Foundation | 2007 |
| Headquarters | San Francisco, CA |
| Number of Employees | 1000-5000 |
| Hourly Rate | $100-$150 |

GameLab is a unity game development studio based in Barcelona, Spain. The company was founded in 2002 by Alexis Valerio and Eduard Olivé. It has created unity games for PC, web, and mobile platforms.

| | |
| --- | --- |
| Foundation | 2002 |
| Headquarters | New York |
| Number of Employees | 500-800 |
| Hourly Rate | $100-$200 |
Best Augmented Reality Game Development Studios