Top Video Game Development Companies- 2022
Last updated Apr 11, 2023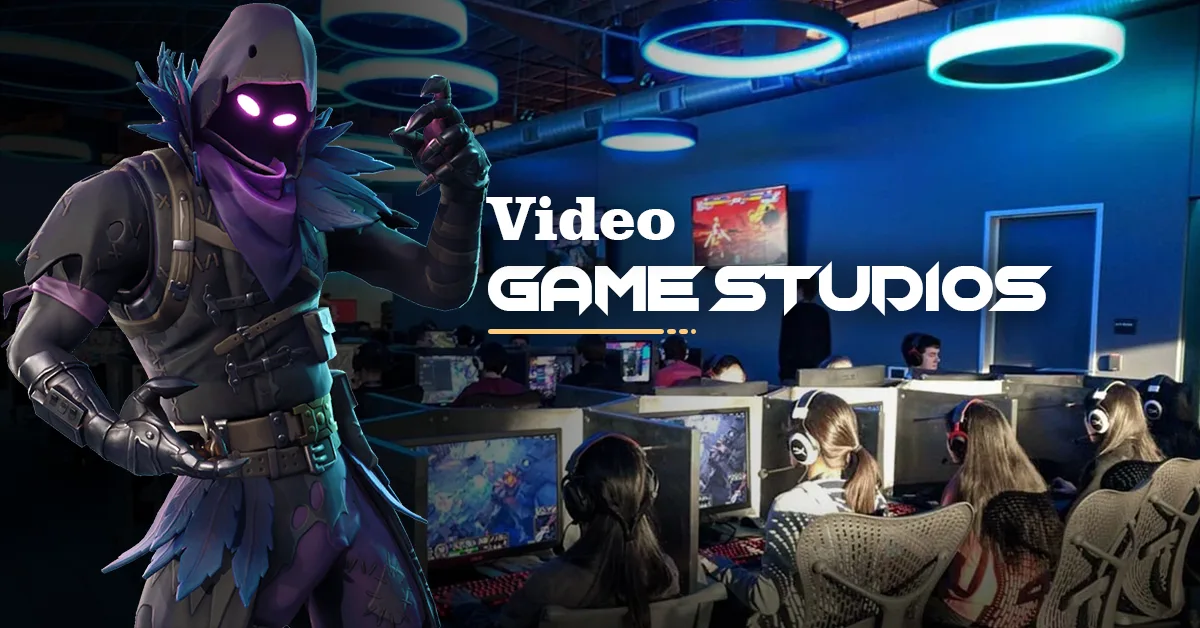 What is Video Game?
A video game is an electronic game that involves human interaction with a user interface to generate visual feedback on a video device. Video games are usually defined as a digital form of entertainment or interactive multimedia, but may also be used in other ways, such as for educational purposes and for simulating real-world scenarios.
The term "video game" can be used to refer to any type of game that uses a video display, including console games, computer games, arcade games, and even mobile games. Video games are often classified by genres, such as action, adventure, role-playing, strategy, and simulation games.
Why Video games are getting Popular?
The video game industry is one of the most rapidly growing industries in the world. Video games are becoming more popular with both children and adults, and the market for video games is expected to continue to grow.
There are many reasons why video games are becoming more popular. One reason is that video games are now more accessible than ever before. With the advent of mobile devices and online gaming, people can play games anywhere, anytime. Video games are also more immersive and realistic than ever before, thanks to advances in technology.
Another reason why video games are getting more popular is that they offer a unique form of entertainment. Video games can be a great way to relax and unwind after a long day, or they can provide an exciting and challenging way to spend some free time. Video games can also be a great way to socialize with friends and family.
How to Choose Video Game Development Company?
There are many factors to consider when choosing a video game development company. Some of the things you should keep in mind include:
The size of the company:
You will want to choose a company that is large enough to handle your project, but not so large that they will be unable to give your project the attention it deserves.
The company's experience:
You will want to choose a company that has experience developing games for the platform you are interested in.
The company's portfolio:
You will want to look at the company's portfolio to see what types of games they have developed in the past. This can give you an idea of their skill level and what you can expect from them.
The company's rates:
You will want to get quotes from several different companies before you make a final decision. Be sure to compare the rates of each company and choose the one that offers the best value for your money.
Top 10 Video Game Development Companies
There are many video game development companies all over the world that create amazing video games. In this article, we will be taking a look at the top 10 video game development companies.
The NineHertz is a reputed game development studio that specializes in create mobile games and video games. They have a team of experienced game designers who can take your concept and turn it into a reality. In addition to mobile games, they also develop metaverse games, AR/VR games, and NFT games. Their developers are well-versed in a variety of game engines like Unity, Unreal, Gamemaker, and Godot. The NineHertz also offers game design and concept design services for both 2D and 3D gaming projects. Whether you're looking for a team of experienced professionals to develop your next big game idea or simply need some help fleshing out your game's concept, The NineHertz can provide the game development services you need.

| | |
| --- | --- |
| Foundation | 2008 |
| Headquarters | Atlanta |
| Number of Employees | 51-200 |
| Hourly Rate | $50-$80 |

Nintendo is a Japanese video game company that was founded in 1889. Nintendo is one of the largest video game companies in the world, with a market capitalization of over $85 billion. Nintendo is best known for its Mario, Zelda, and Donkey Kong franchises, but has also published other successful franchises such as Metroid, Kirby, Animal Crossing, and Splatoon.

| | |
| --- | --- |
| Foundation | 2008 |
| Headquarters | Florida |
| Number of Employees | 50 - 249 |
| Hourly Rate | $25 - $49/hr |

3.Sony Interactive Entertainment

Sony Interactive Entertainment (SIE) is a Japanese video game studio that was founded in 1993. SIE is a subsidiary of Sony Corporation and is responsible for the PlayStation brand of video game consoles. SIE is the largest video game company in the world by revenue, with a market capitalization of over $85 billion.

| | |
| --- | --- |
| Foundation | 1993 |
| Headquarters | United States |
| Number of Employees | 50 - 249 |
| Hourly Rate | $25 - $49/hr |

Microsoft Corporation is the largest software maker company in the world. This company is not only famous for creating software products, anyhow it is also famous for creating the hardware products like the Xbox series of video game consoles. The gamers love to play their video games as they are innovative, fun, and thrilling. Some of the best-selling games of Microsoft are Minecraft, Forza horizon series, Age of empires, Roblox and treasure hunt. There are millions of fans of Microsoft games in the whole world.

| | |
| --- | --- |
| Foundation | 1975 |
| Headquarters | Redmond, Washington, US |
| Number of Employees | 10000+ |

Ubisoft is a French video game company that was founded in 1986. Ubisoft is one of the largest video game companies in the world, with a market capitalization of over $10 billion. Ubisoft is best known for its Tom Clancy's Rainbow Six, Assassin's Creed, and Far Cry franchises.

| | |
| --- | --- |
| Foundation | 1986 |
| Headquarters | Floresco |
| Number of Employees | 50 - 249 |
| Hourly Rate | $25 - $49/hr |

Activision Blizzard comes on the list of the world's largest interactive entertainment companies. This company is home to the most loved gaming franchises, including Skylanders, World of Warcraft, Diablo, Candy Crush, Call of Duty, Overwatch and Bubble Witch. Moreover, they include innovative technology in their work for providing the best experience to the players.

| | |
| --- | --- |
| Foundation | 2008 |
| Headquarters | Santa Monica, CA |
| Number of Employees | 5,001-10,000 |

Electronic Arts is a recognized American video game company that is proficient in creating high-quality games, content and remarkable online services. At present, the registered players of this gaming company are over 450 million. In addition, this famous gaming company is well known for developing a collection of the much-admired gaming brands like Apex legends, Battlefield, Need for Speed, Titanfall, FI, The sims, and EA SPORTS FIFA.

| | |
| --- | --- |
| Foundation | 1982 |
| Headquarters | Redwood City, California |
| Number of Employees | 9800 |
| Hourly Rate | $100-$150 |

Take-Two Interactive is an American video gaming company that was founded in 1993. Take-Two is best known for its Grand Theft Auto and Red Dead Redemption franchises. Take-Two also owns the developer Rockstar Games, which is responsible for the Grand Theft Auto franchise. Take-Two has a market capitalization of over $12 billion.

| | |
| --- | --- |
| Foundation | 1993 |
| Headquarters | USA |
| Number of Employees | 249 - 500 |
| Hourly Rate | $25 - $49/hr |

9.Bandai Namco Entertainment

Bandai Namco Entertainment is a Japanese video gaming companies that was founded in 2006 through the merger of Bandai and Namco. Bandai Namco is one of the largest video game companies in the world, with a market capitalization of over $20 billion. Bandai Namco is best known for its Pac-Man, Tekken, and Soulcalibur franchises.

| | |
| --- | --- |
| Foundation | 2006 |
| Headquarters | Japan |
| Number of Employees | 500 - 1000 |
| Hourly Rate | $30 - $49/hr |

Another top mobile game development studio, Kabam is responsible for hits like "Marvel: Contest of Champions" and "Fast & Furious: Legacy." If you're looking for high-quality mobile games, this is definitely a studio to check out.

| | |
| --- | --- |
| Foundation | 2015 |
| Headquarters | San Jose, California |
| Number of Employees | 50-249 |
| Hourly Rate | $50-$70 |
FAQ:- Best Video game development Studios