Top NFT Game Development Companies
Last updated Apr 24, 2023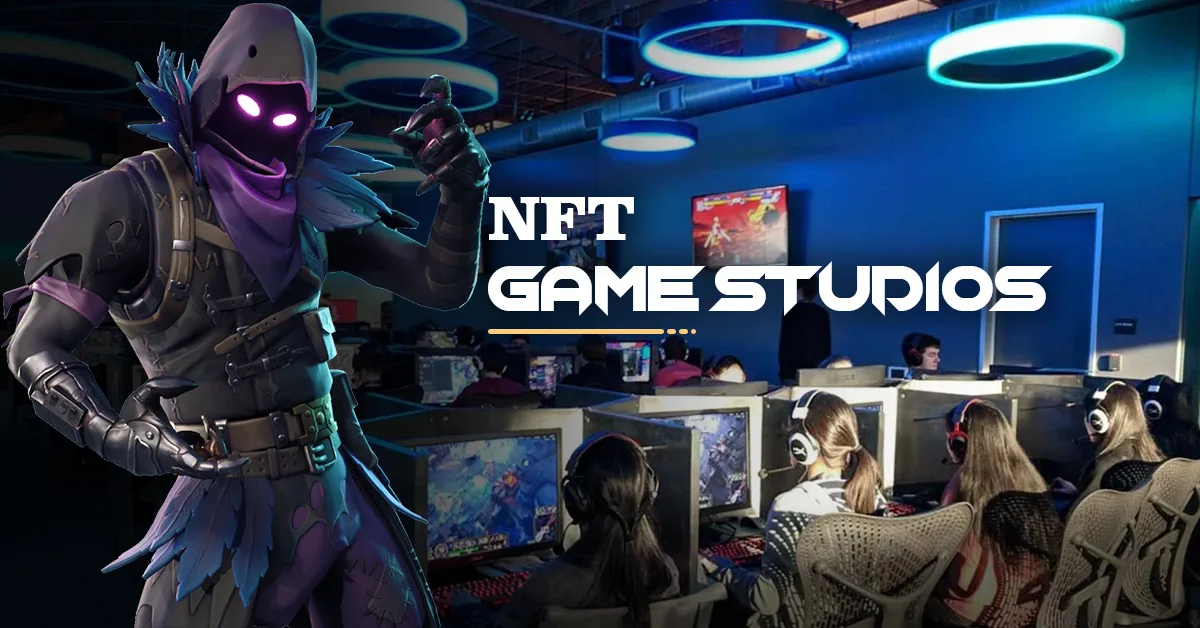 With the popularity of blockchain gaming in the game market, we expect to see even more innovative titles in the near future. We have curated a list of some of the leading NFT game development companies that specialize in the development of games built on non-fungible token (NFT) technology. Their NFT game developers are helping to pioneer a new type of gaming that allows players to own their in-game assets and accomplishments.
However, unlike other cryptocurrencies, NFTs cannot be exchanged for other NFTs or for fiat currency. This makes them ideal for use in games, where they can be used to represent things like game items, gaming assets, game characters, or even entire worlds.
NFT game development is still in its early stages, but there are already a number of gaming companies that use NFTs to develop games. For example, the popular online game Cryptovoxels uses NFTs to represent player-owned properties, while the blockchain game Decentraland uses NFT gaming tokens to represent in-game land parcels.
What is NFT Game?
NFT game is a type of blockchain-based game that uses Non-Fungible Tokens (NFTs) to represent unique in-game assets. NFTs are unique, digital assets that cannot be replaced or copied. This makes them ideal for use in gaming development, mobile app development, web development, and software development. NFT can be used to represent everything from in-game items, game collectibles to player characters.
NFT Games are beginning to emerge as a new era in games for game genres like arcade games, card games, action games, pvp battle games, and many more. Some developers use customizable NFT to create virtual gaming experience, while some are doing NFT gaming development to offer players new ways to own and trade digital assets.
Why NFT Games are Getting Popular?
NFT games are becoming popular for various reasons in the gaming community. First, they offer players a new way to own and trade digital assets. NFTs can represent anything from in-game items to player characters, giving players a lot of flexibility in how they play and interact with the game.
Second, NFT games are beginning to experiment with new types of gameplay that couldn't be possible with traditional game assets. For example, some developers are using NFTs to create games that can be played on the blockchain, or that use smart contracts to enforce rules and gameplay. This is opening up a new world of possibilities for NFT gaming platform companies, and we're just beginning to see what's possible.
Third, NFT games offer a new way for game developers to monetize their games. With traditional games, developers typically make money through selling the game itself or in-game microtransactions. However, with NFT games, developers can sell in-game assets directly to players, or allow players to trade these assets on secondary markets. This offers a new revenue stream for game developers and provides an incentive for them to create more interesting and innovative gameplay.
Also, NFT gaming platform allows players to use their NFTs to purchase in-game items, including game characters, vehicles, concept creation, and virtual real estate. The first NFT gaming platform was launched in 2020 and has since become one of the most popular types of blockchain games. In addition, the NFT gaming platform provides a level of security and transparency that is not possible with traditional online games. As the popularity of blockchain games continues to grow, it is likely that the NFT gaming platform will become even more popular in the years to come.
Future of NFT Gaming
There is no denying that some members of the game development industry remain skeptical about NFT games, citing their relatively low adoption rates. Moreover, the NFT market is growing at a faster pace than cryptocurrencies did, with the most expensive NFT art piece selling for $91.8 million and the most expensive gaming NFT selling for $1.1 million in 2021.
These numbers demonstrate that the NFT market is quickly evolving and becoming more valuable to its owners. The market has experienced significant growth in recent years, with many new games and platforms being launched to cater to the growing demand for NFT-based gaming experiences. The Global NFT Gaming Market is expected to grow at a CAGR of 32.56% during the forecast period from 2022-2027.
How to Choose the Right NFT Game Developers?
Choosing the right NFT game development company is essential to the success of your project delivery, as they will be responsible for creating the gaming solutions and ensuring that it meets your specific requirements. Here are some factors to consider when selecting an NFT game companies:
- Their experience in developing NFT games
- Their understanding of the NFT market and ecosystem
- Their ability to create games that meet your specific requirements
- Their track record of successfully delivering projects on time and on budget
List of Top NFT Game Development Companies
The below-mentioned list is some of the top-rated NFT game development companies in the industry that you can partner with to avail best NFT game development services. Contact each of them to discuss your specific requirements, and get started on developing your very own NFT game today!
The NineHertz is a reputed game development studio that specializes in create mobile games and video games. They have a team of experienced game designers who can take your concept and turn it into a reality. In addition to mobile games, they also develop metaverse games, AR/VR games, and NFT games. Their developers are well-versed in a variety of game engines like Unity, Unreal, Gamemaker, and Godot. The NineHertz also offers game design and concept design services for both 2D and 3D gaming projects. Whether you're looking for a team of experienced professionals to develop your next big game idea or simply need some help fleshing out your game's concept, The NineHertz can provide the game development services you need.

| | |
| --- | --- |
| Foundation | 2008 |
| Headquarters | Atlanta |
| Number of Employees | 51-200 |
| Hourly Rate | $50-$80 |

Suffescom Solutions is a leading game development company with a team of experienced NFT game coders. They have a proven track record of delivering high-quality games on time and within budget. Contact them today to discuss your specific requirements and get started on developing your very own NFT game.

| | |
| --- | --- |
| Foundation | 2013 |
| Headquarters | California |
| Number of Employees | 250 - 999 |
| Hourly Rate | $25 - $49/hr |

Fluper is a leading NFT game development studio that offers end-to-end solutions for building games on the blockchain. With a team of 150+ game developers, designers, and testers, we have delivered over 200 successful projects in the past 6 years. We have a proven track record in developing high-quality games with engaging gameplay, cutting-edge graphics, and captivating storylines.

| | |
| --- | --- |
| Foundation | 2013 |
| Headquarters | Burdubai,, Dubai |
| Number of Employees | 50 - 249 |
| Hourly Rate | < $25/hrr |

Antier Solutions is a blockchain gaming company that specializes in creating NFT games. With a team of expert nft game programmers, we have delivered over 50 successful projects in the past 5 years. We have a proven track record in developing high-quality games with engaging gameplay, cutting-edge graphics, and captivating storylines.

| | |
| --- | --- |
| Foundation | 2005 |
| Headquarters | RAK, UAE |
| Number of Employees | 50 - 249 |
| Hourly Rate | $25 - $49/hr |

Quy Technology is another top-notch NFT game development company that has a team of highly talented and experienced NFT developers. They have developed many successful games that have been well-received by players. They use cutting-edge technologies and tools to develop high-quality games.

| | |
| --- | --- |
| Foundation | 2020 |
| Headquarters | Atlanta, Georgia |
| Number of Employees | 50 - 249 |
| Hourly Rate | $25 - $49/hr |

Blockchain App Factory is a premier non-fungible tokens game development studio that builds white-labeled solutions for your business. We have a team of skilled developers who can create NFT games on multiple platforms like EOS, Ethereum, Tron, and more.

| | |
| --- | --- |
| Foundation | 2017 |
| Headquarters | Tokyo,japan |
| Number of Employees | 500+ |
| Hourly Rate | $25 - $49/hr |

Cubix is a renowned NFT gaming platform development company and has been delivering some of the best games with high standards. it is located in the USA and has a team of highly skilled nft game developers. They have a team of expert NFT game Designers who have been working in the industry for more than a decade.

| | |
| --- | --- |
| Foundation | 2008 |
| Headquarters | Florida |
| Number of Employees | 50 - 249 |
| Hourly Rate | $25 - $49/hr |

Whimsy Games is another big name when it comes to nft game development agency. The company has been around for quite some time and has developed some of the most successful nft games. The gaming platform development firm has a team of 15+ dedicated nft game developers and designers who have years of experience in the industry.

| | |
| --- | --- |
| Foundation | 2017 |
| Headquarters | Rancho Cordova, California |
| Number of Employees | 50 - 249 |
| Hourly Rate | $25 - $49/hr |

Knock Knock Games is a new name in the gaming industry but has already made a mark for itself by developing some of the most successful nft games. The company is based out of the USA and has a team of highly skilled nft game programmers.

| | |
| --- | --- |
| Foundation | 2017 |
| Headquarters | San Francisco, California |
| Number of Employees | 10 - 49 |
| Hourly Rate | $25 - $49/hr |
Best NFT game development Studios